Happy New Year!!
It has been a crazy, busy year and I am missing it already, but I am so excited to start Twenty-Fourteen! How about you, do you have any resolutions? Mmm, hmm. Me, too. Gonna get that garden done, lick this bad health and come up fighting against another *aging* birthday! (Oh, wait. I turn twenty-nine every year already!) I am resolving to kick it in gear with my business this year, too! Here's a few things to get me started.
Lots to cover this month. What you'll learn about today:
1. Cloud Nine
2. Cloud Nine Team-Building Bonus
3. Rediscover Close To My Heart
4. January Stamp of the Month (SOTM)
......................................................................................
1. Cloud Nine
You can get an exclusive Cloud Nine cardmaking kit for $15 (retail value $46) with a qualifying purchase of $35 or more (excluding tax and shipping) during January in celebration of National Papercrafting Month.
Make 10 adorable cards (2 each of 5 designs) with funky messages to put any recipient on cloud nine! You can add one cardmaking kit for every $35 in your order*.
(When you order on my website, you will be prompted to add this kit to your cart if you qualified for it.)
Here is a video for Cloud 9.
Cloud 9 Kit Contents*:
1-Cloud 9 Stamp Set (D size set)

1-Cloud 9 B&T Duos Papers

1-Lagoon Cardstock Sheet

1-Honey Cardstock Sheet

1 - 9" x 9 1/2" White Daisy Die Cuts Sheet

1 Roll - Gold Polka-Dot Washi Tape

1 Roll - Teal Shimmer Trim

1 Package - Durables Triangles Studs

10 - Card Bases and Envelopes

1-Instructional Brochure
Valued at over $46!
What? You're not sure what to purchase to reach your $35?! Here's a quick list of suggestions to complete your kit, compiled by Pam Jarrett and shared with permission via Karen Pedersen:
X254 White cards and envelopes Value Pack $14.95 (the kit comes with cards, this just gives you cards to use to make MORE cards!)
Z2195 Lagoon Ink pad $5.25
Z2191 Sunset Ink pad $5.25
Z1151 3D Foam Tape $5.95
Z553 Glue Pen $4.50
Total $35.90






* Note that Cloud Nine cardmaking kits do not count toward qualifying order totals. The retail value of the order is totaled prior to determining promotional kit eligibility. For example, if a customer purchases $60 in retail items, and adds a single card kit for $15, that $75 purchase does NOT qualify the customer to add a second promotional kit. The qualifying base purchase is exclusive of promotional cardmaking kits.
2. Cloud Nine Team-Building Bonus
New Consultants who enroll in January will receive a FREE Cloud Nine cardmaking kit when they have submitted total personal sales of $300 or more**.
**New Consultant's total qualifying sales must be remitted no later than June 30, 2014. The Consultant will be prompted to add the free kit with the Consultant's order that achieves the minimum qualifying total sales. For further explanation of new Consultant qualification and shipping, please refer to the FAQ. Additional criteria may apply to offer.

With January came a BRAND-SPANKIN'-NEW Consultant Kit...and you're gonna LOVE it! For just $99, you get over $309 in products! WOWZA! Here's a picture of the new kit:

To sign up, just click here. It's super fast and easy and I would *love* to have you on my team!
3. Rediscover Close To My Heart
Got a few things on your self-maintenance bucket list? Yeah, me too.
Here's a cute way to document those in the new year. Rediscover yourself along with Close To My Heart this January and get a free printable here.
4. January Stamp of the Month: Cross-stitch Wishes
Each month you can purchase a new D-size stamp set, available for one month only, for just $5 — that's over 70% off retail! When you place an order of $50 or more in Close To My Heart products, you qualify for this special Stamp of the Month pricing.
This month is an adorable sampler of sentiments for your sweetie. I immediately loved the simplistic sweet nothings and went with a super fast look that gets right to the point! The "Artiste" note in the bottom left lets you know that the outline images have a coordinating shape on the Cricut Artiste cartridge, with the sizes noted next to each image. For more artwork and ideas, go here.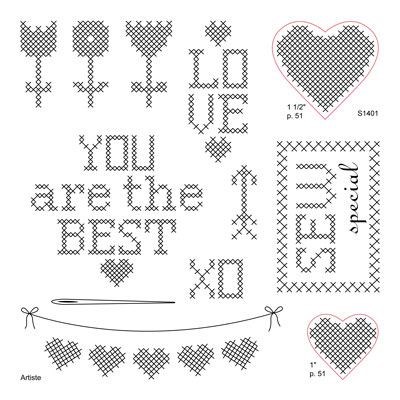 It's gonna be a great year! With specials this neat, how could you fail!
Warm wishes,